INTRODUCTION
Palmetto State Armory (PSA) has been a well-known supplier of many firearm parts and products. They live with the motto of selling as many guns to law-abiding Americans as possible. That's something I can get behind!
PSA has recently entered the polymer-framed pistol market, offering several PSA branded pistols. The PSA Rock 5.7 is one of those, and the subject of our review today. We are going to take a look at how it works and what it brings to the table.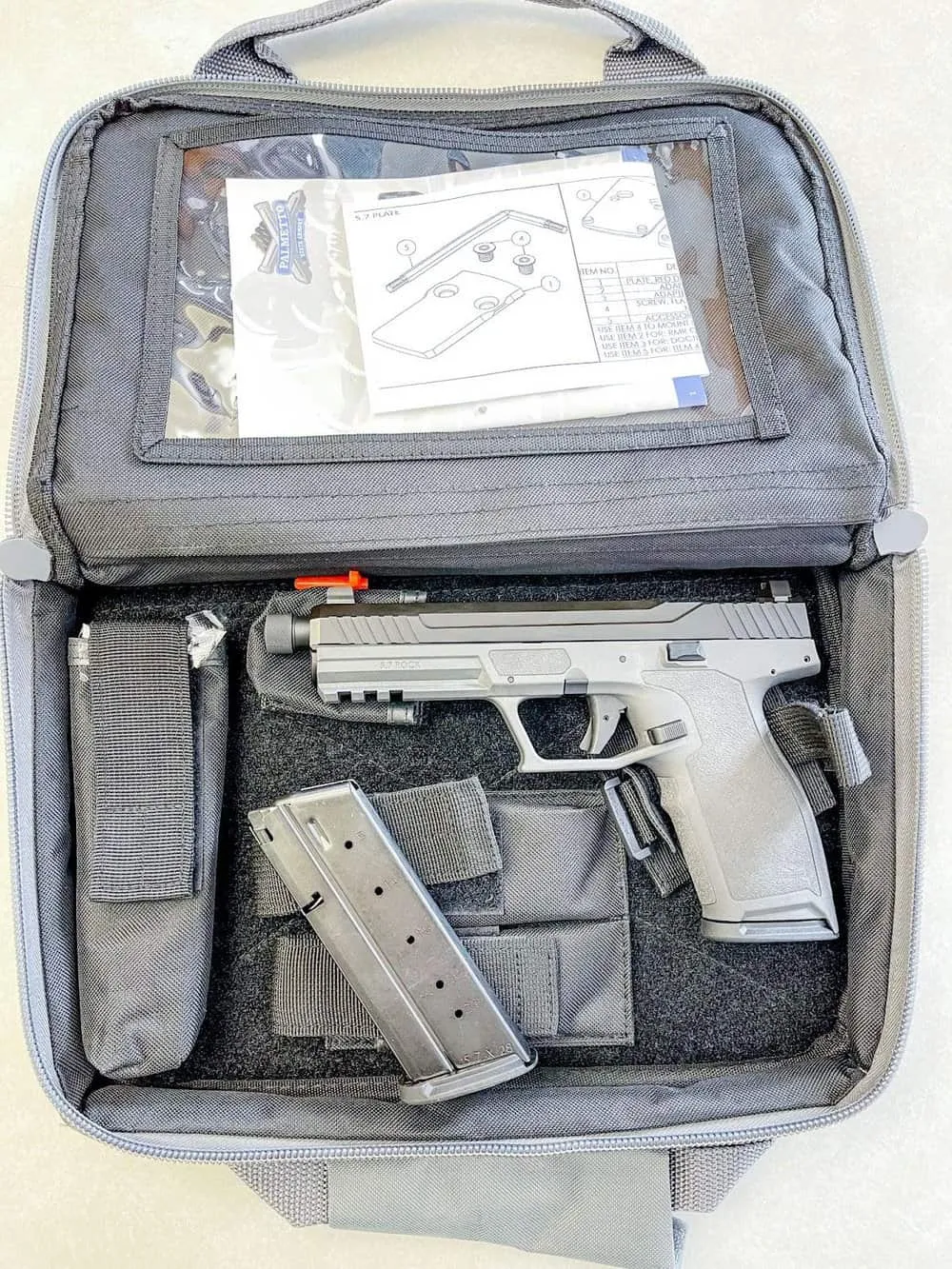 The PSA Rock 5.7 is a polymer-frame striker-fired pistol.
It is chambered in 5.7x28mm. It feeds from twenty-three round magazines to its 5.2 inches and 1-9 twist barrel.
The fluted barrel is also threaded to install a suppressor or other muzzle accessories. The Rock's slide comes precut for adding optics and also includes suppressor height sights with the threaded barrel models.
The un-threaded models come with Ameriglow sights. The pistol operates using a delayed blowback system, making it a very simple operation.
The pistol is available in various color combinations, including black, FDE, grey, and combinations of the same.
I must have missed the Belgian 5.7 train years ago when it passed, as I never got too excited about it. And over the years, as other guns chambered in the diminutive cartridge popped up, I didn't pay much attention to them either.
So being my first encounter with a 5.7×28 pistol, I encourage you to come along and discover the pros and cons with me.
The Rock comes in a nice little soft pistol case with one extra magazine and a few other accessories.
My first impressions of the pistol were actually quite positive, the gun doesn't impress me as heavy, and it felt comfortable in my hand. I ran the slide a few times and pulled the trigger to get a feel for it, and I was quite surprised at how good it felt to my finger.
There are only a few options currently for 5.7×28 pistols, and it seems that the PSA Rock is likely the most affordable one available. That being the case, I determined to find out if it deserves a place in the safe, and if its performance justifies the new 5.7×28 inventory I'd need to feed it.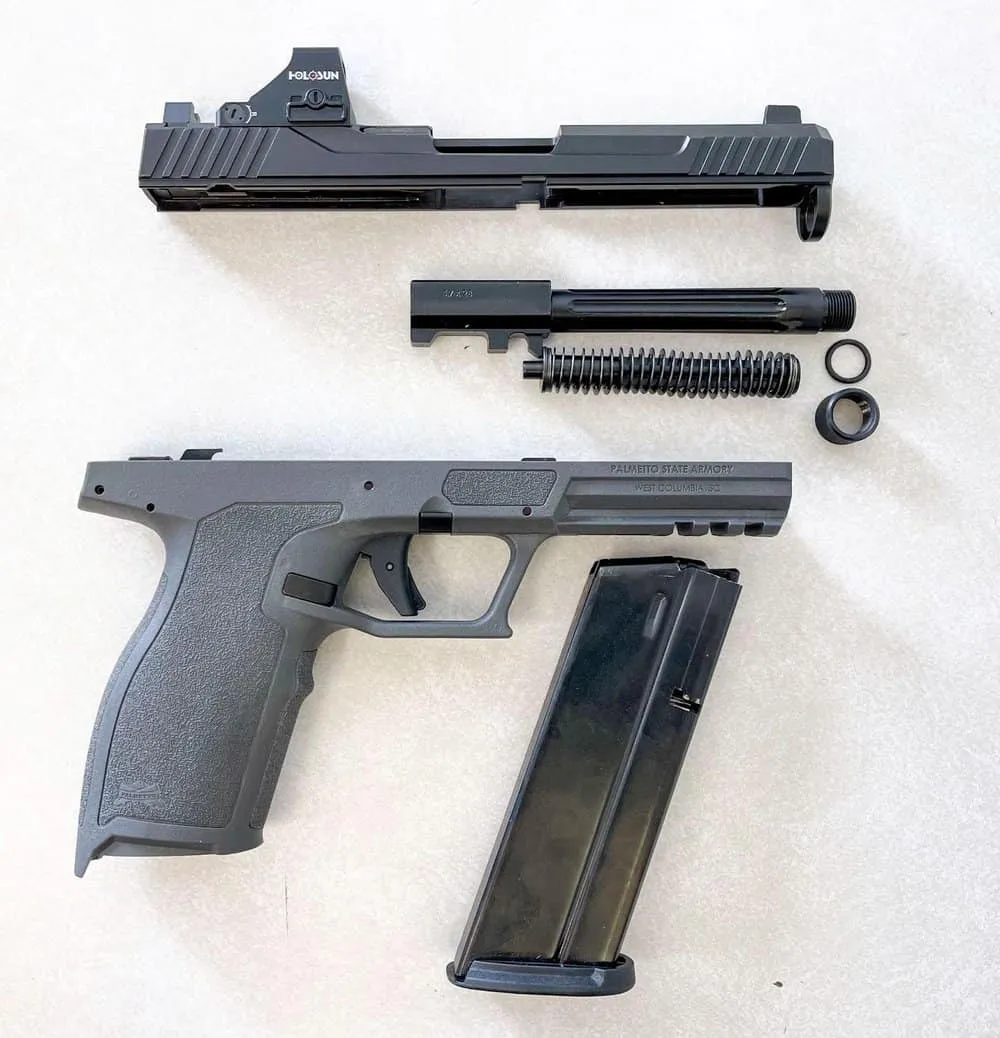 PSA ROCK 5.7×28 PISTOL REVIEW
The 5.7×28 cartridge was developed by FN Herstal for several of their firearms, notably the P90 bullpup assault rifle. The cartridge shoots a .224 caliber bullet like other centerfire .22 caliber rifles.
The bottle-neck cartridge closely resembles a shrunk rifle round, and compared to other pistol cartridges, it performs like one as well.
With its forty-grain projectiles leaving the barrel well beyond supersonic velocities, the 5.7 acts more like a rifle cartridge than a pistol cartridge, which is likely why manufacturers are chambering additional firearms with the 5.7 cartridge.
The performance of the 5.7 lends itself to high-velocity and high-energy shooting and comes with the attributes of supersonic performance. Just how good a performance I was determined to find out.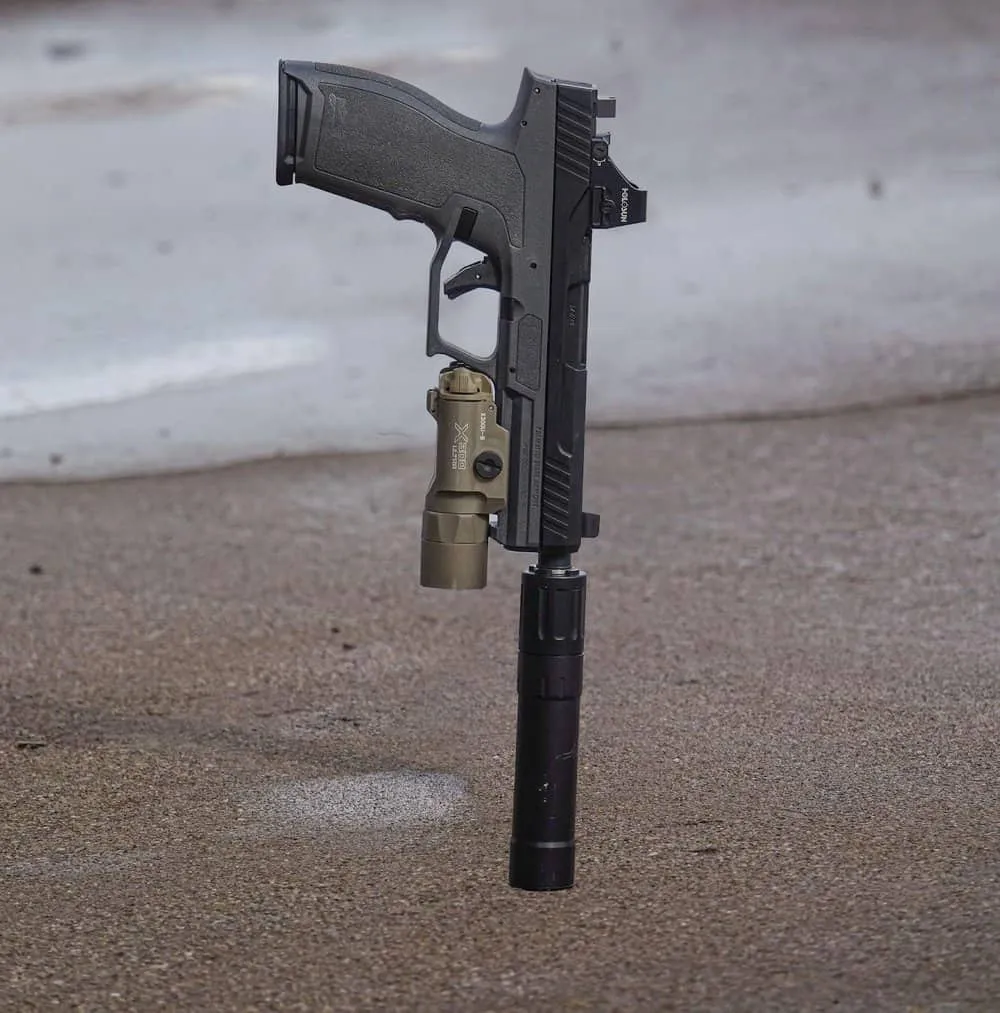 The Rock 5.7 carries twenty-three rounds, and with the extended capabilities of the cartridge, it could certainly be useful at carbine distances compared to normal pistol cartridge rounds.
This could be very appealing to shooters who need such a thing. Before I even got started with this review, I was confronted by one of the drawbacks of the 5.7, and that was the price of a box of ammunition.
The local Cabelas had many boxes labeled at $50 each, which for a rifle isn't unheard of, but for a handgun, it seemed to be quite excessive to me. Granted, the Rock isn't just a plinking pistol, so I bit the bullets and left the store even more curious to see if this project would serve my purposes.
SPECIFICATIONS
| | |
| --- | --- |
| Caliber: | 5.7x28mm |
| Capacity: | 23+1 |
| Weight with Empty Mag: | 25 oz |
| Barrel Length: | 5.2″ |
| Twist Rate: | 1/9″ |
| Thread Pitch: | 1/2×28 TPI |
| Magazine: | 23rd Steel 5.7x28mm Magazine (Ships With 2) |
| Action: | Delayed Blowback Striker-fired |
| Mag Catch: | Reversible |
| Barrel Material: | Carbon Steel With QPQ Finish; Fluted |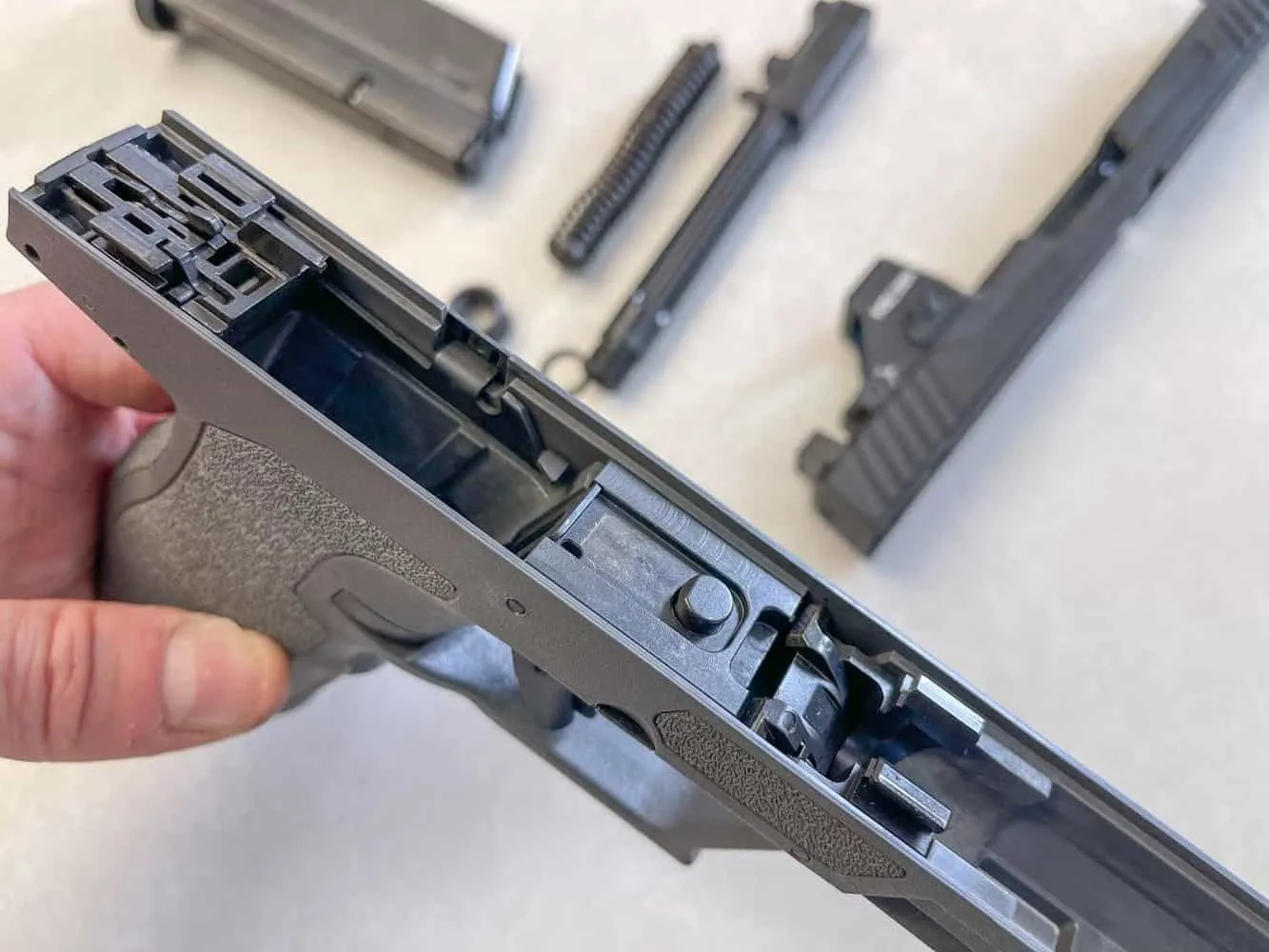 PROS & CONS
PROS
Comfortable grip
Quite affordable
Excellent trigger
23+1 round capacity
Factory threaded barrel
Suppressor height sights
Optics ready slide
Excellent accuracy
Includes soft-case and many extras
Double-stack magazine
CONS
Failure to lock back on empty
Slide-release is a little stiff
ROCKING THE RANGE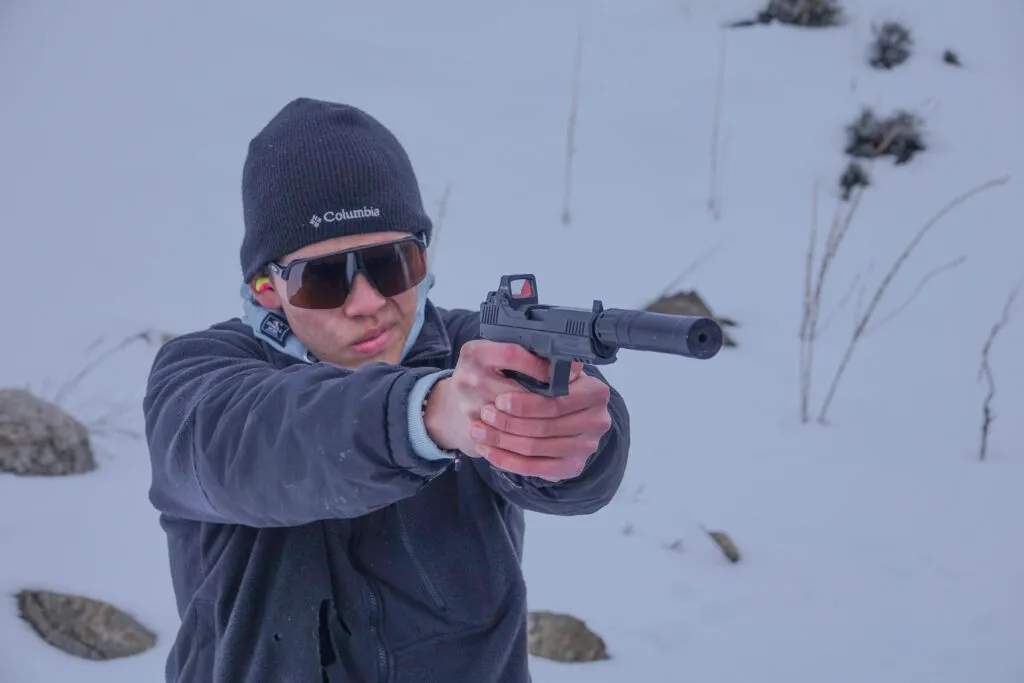 My first trip to the range with the PSA Rock 5.7 was on a snowy day in March. I had also acquired a couple boxes of American Eagle 5.7x28mm FMJ ammunition, and I started shooting with that.
After loading the double-stack magazines to their 23-round max, I seated my first magazine and dropped the slide.
I fired a few rounds and was immediately surprised by a couple of things; the recoil is quite mild, which is very nice, and the trigger in this pistol is very crisp. And the trigger reset is quite short as well.
These two attributes made it quite easy to do two things; shoot fast, and shoot accurately (not at the same time).
I continued shooting to see what else I liked with the pistol, only to be let down as the magazine emptied its contents.
The first hiccup I noticed was the failure to lock back when the mag went empty. I tried the second magazine and found the same thing happened. I even fired a single shot from both mags repeatedly to confirm.
It's certainly possible that with some simple fudging of the magazine I could correct the problem, as it worked everytime when I ran the slide manually on an empty magazine.
With a target hung at 25 yards, I looked down the tall sights of the Rock and tried firing a group. To my great surprise, the shots were very consistent, and the group measured just under 2.5 inches.
I felt like it could easily be better if I used a red dot for a finer aiming point, something I was going to try for sure on my next range trip.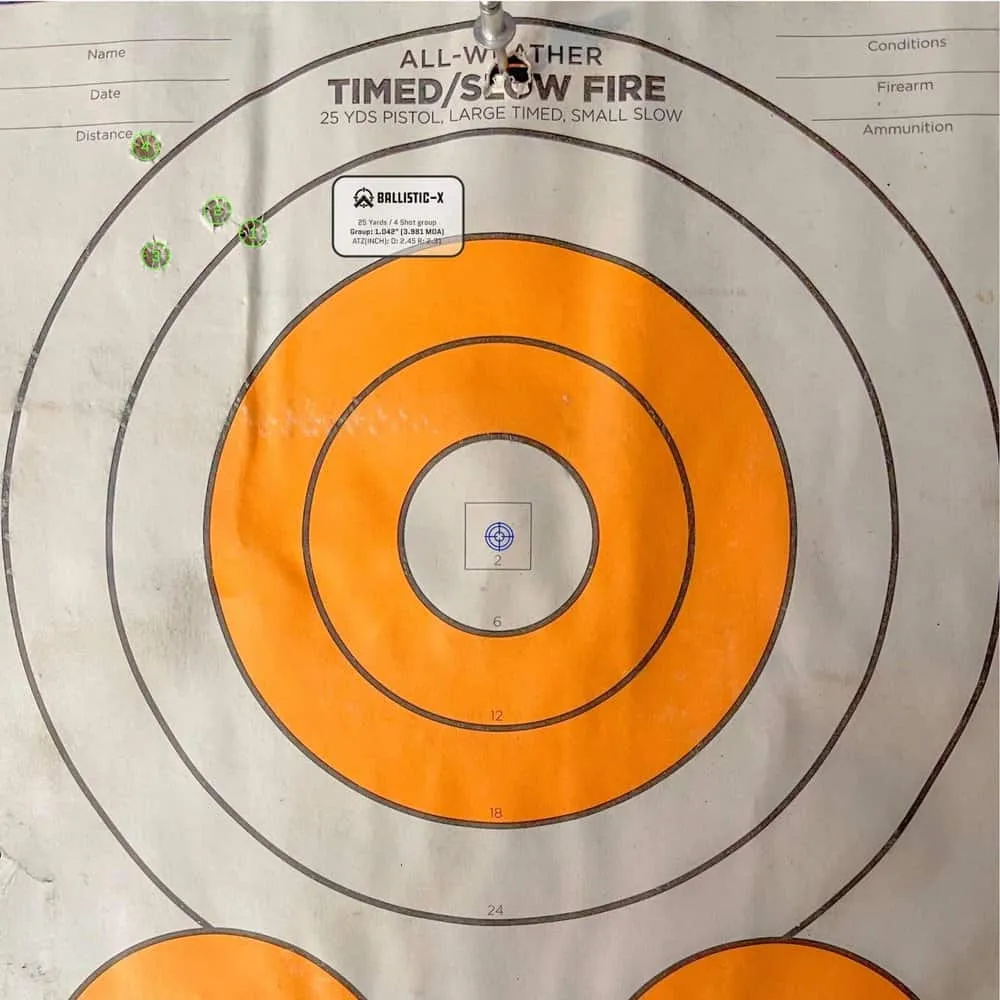 My next task was to try the pistol suppressed. I had brought along my YHM Phantom 22 suppressor to see how the Rock performed with a suppressor. The thread protector is secured with a small O-ring. I removed the protector and threaded it on my suppressor and loaded a magazine.
The first few shots I fired in a slow cadence, inspecting things to ensure alignment. Everything looked and sounded good, so I continued to fire until the magazine went empty. The phantom did a great job at reducing the noise, I would consider it enough to shoot without ear protection, but I am also half-deaf, so take that with a grain of salt.
I would also mention always shoot with eye protection for safety, but this is especially important if you are shooting suppressed. With glasses on, I did notice debris coming back and hitting me in the face a couple of times while shooting suppressed. There was some additional gas blowback as well, which is not a big surprise, but something to be aware of.
After shooting a couple of boxes of ammunition thru the Rock, I had some good opinions formed about its performance.
The gun is very accurate in my opinion, and the action is smooth and predictable. It was very enjoyable to shoot with its mild recoil and excellent trigger pull. The only significant issue I encountered was the failure to lock back.
I did have one failure to go into battery, but I'm not convinced this was an issue with the gun, as I may have not seated the top round properly in the mag.
RELIABILITY
The firing portion of shooting went fine, but the gun would not reliably lock back on empty.
ACCURACY
Accuracy when shooting the Rock was excellent, and exceeded my expectations
OVERALL FEEL
The gun felt great in my hand, I typically don't like the wide grip of pistols because of the 5.7 length magazines housed inside, but it didn't seem to affect my ability to grip it properly.
FEATURES
OPTICS READY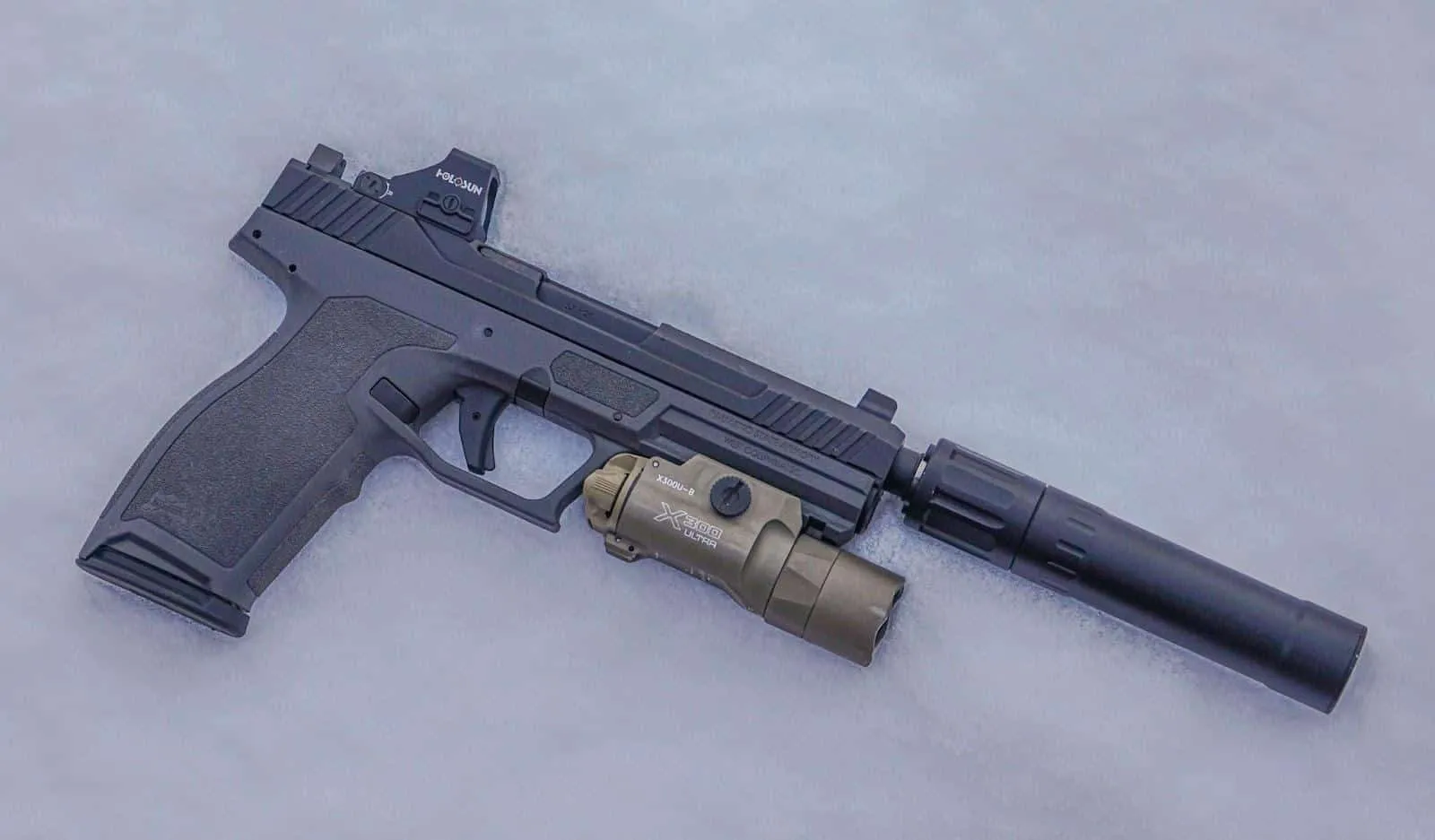 The Rock comes ready to install a red dot; I did so and found it quite easy and extremely useful to take advantage of its accuracy.
THREADED BARREL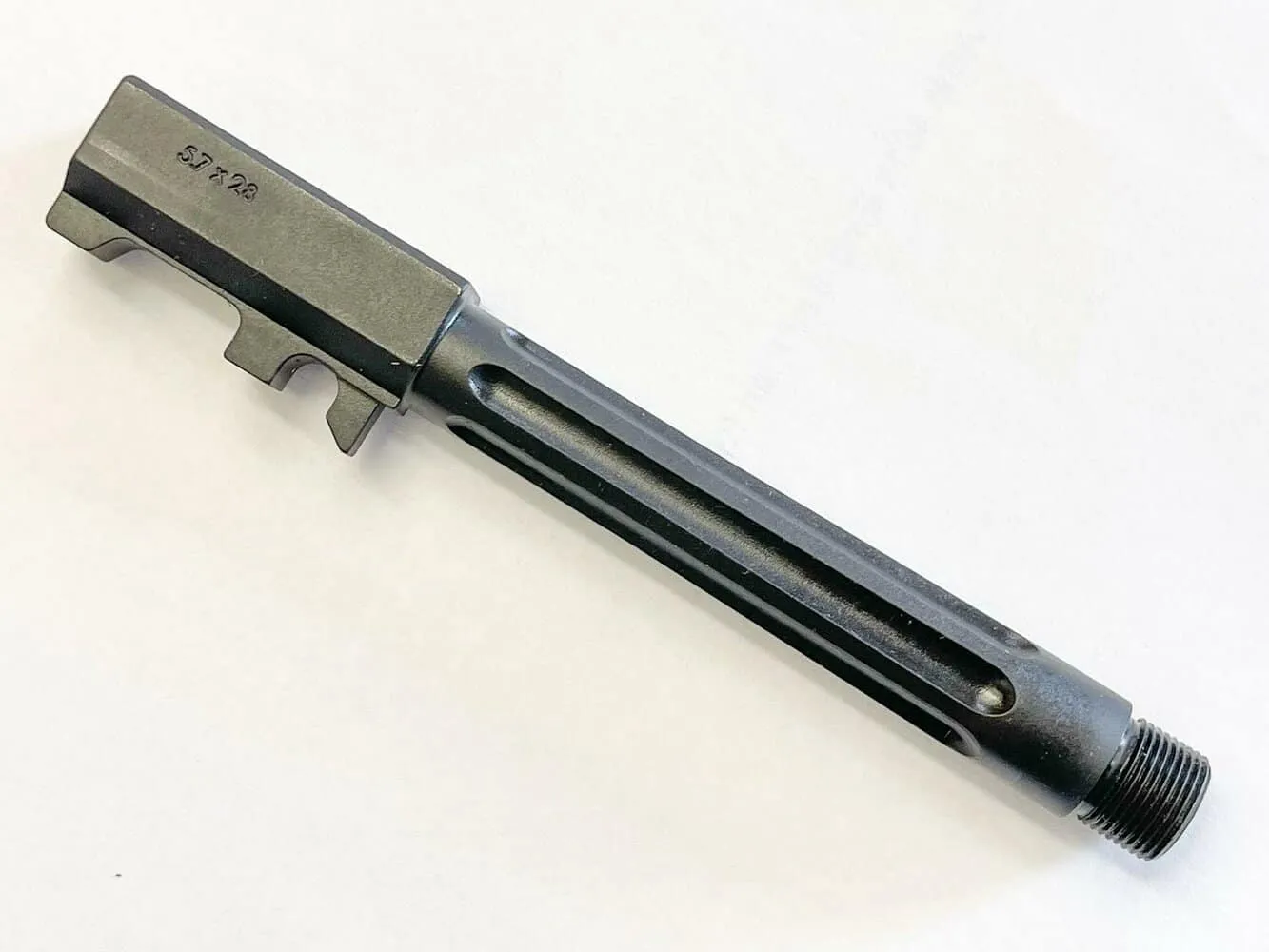 The threaded barrel of the Rock fit my suppressor perfectly, it was a very nice add on to an already fun experience.
23-ROUND MAGAZINES
The 23-round double-stack magazines performed perfectly. It seemed like quite a shooting string to not have the magazine extended beyond the bottom of the grip.
According to PSA the magazines can be used in the Ruger 5.7 pistol, though they don't guarantee function.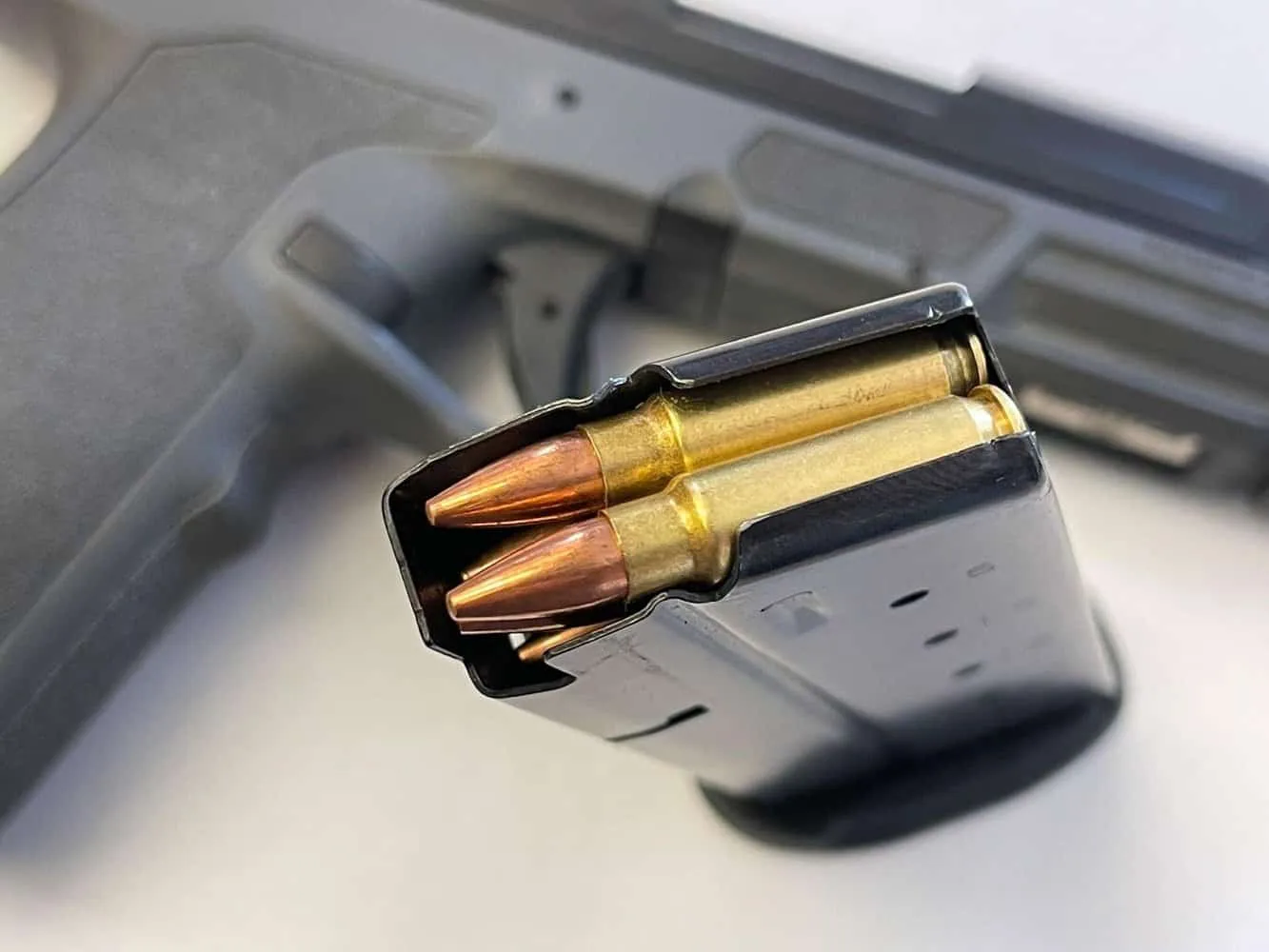 TRIGGER
I again wanted to mention how good the trigger felt when compared to other striker fired polymer pistols, it was definitely above average.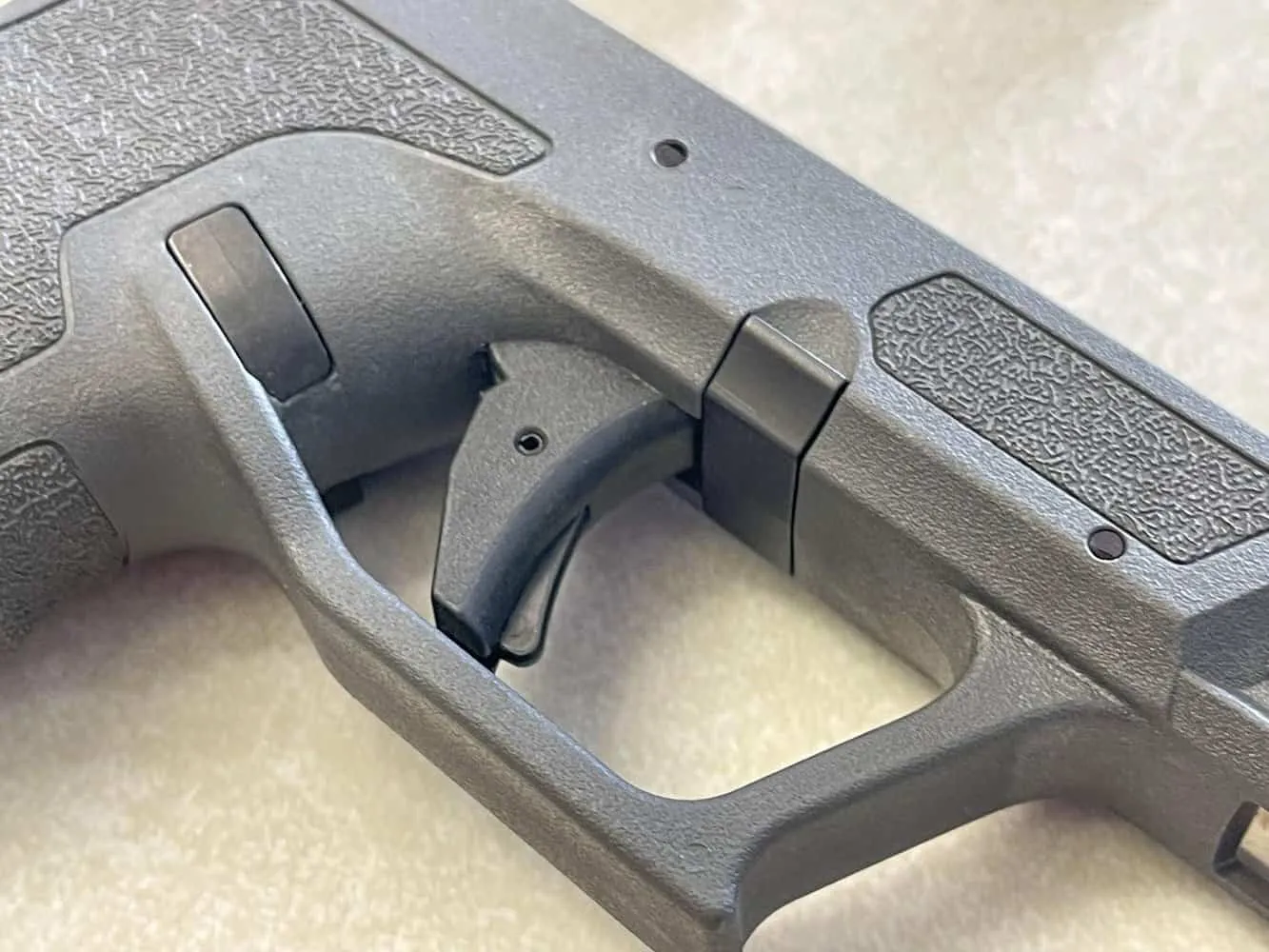 MAGAZINE RELEASE
The magazine release is reversible for left-handed shooters; I found it to be perfectly adequate and flowed perfectly with my shooting.
HOW WE TESTED
During the testing of the Rock 5.7, I shot almost two hundred rounds of ammunition through the pistol. I did a great many reloads during the process to see how the controls functioned.
I did notice that the longer 5.7 magazines are a bit tougher to hit the magwell that we are used to. I think perhaps a slightly more flared magwell would aid in this.
The other thing that I noticed while reloading the gun was the stiffness of the slide release. This may also have something to do with the gun not locking back on empty. I plan on breaking the gun in with a bunch more ammo. Follow me to see if it results in better function.
I only fired a couple magazines worth of ammo suppressed, just to see how it functioned. Recoil was slightly increased, and some additional blowback was noted, but it was still acceptable in my opinion.
I was surprised the suppressor didn't heat up more than it did due to the higher pressure of the 5.7 cartridge.
AMMO USED
For the most part, I use the American Eagle 40 grain ammunition. The FN brand 40 grain ammunition also functioned flawlessly.
SCORE CARD
RELIABILITY (7/10)
Other than the issues I mentioned about not locking back, and stiff slide release, the gun functioned very well.
ERGONOMICS (9/10)
The Rock felt great in my hand, the textured grip makes it easy to hold onto, and the slide texture allows easy operation of the action.
CUSTOMIZATION (8/10)
I am unaware of any aftermarket parts for the Rock, as it is still quite new. But the threaded barrel and optics-ready slide give the user the ability to make it their way.
APPEARANCE (8/10)
The various color options are nice, and the Rock looks as good as any other comparable pistol
VALUE (9/10)
The Rock is significantly lower priced than the other options like the FN or Ruger 5.7 pistols. If the couple of slight issues I've had are easily worked out, I think it's a steal by comparison.